Corps Contract Puts New Spin On Retirement
Corps Contract Puts New Spin On Retirement
Abstract: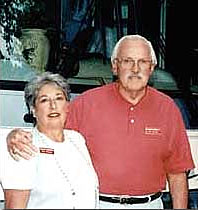 A chance trade-in for a motorhome put a new spin on retirement for Arkansas residents, Richard and Pauline Anderson. After placing the family's convenience store and boat storage business in the capable hands of their son Greg, an older Bounder turned up in a transaction. Greg insisted that his parents take the rig on an extended trip.

On a lark, the Andersons took off and returned home two months later. "We were bitten with RVing," Pauline states

After touring Northwestern states and British Columbia, they agreed they could go for a lifestyle on the road. But only on the fringes of their collective acquaintances did the Arkansas couple recall people who lived full-time in an RV. For certain, they knew no Workampers.

However, getting to the end of their active and varied working careers, Pauline had pondered, What are we going to do for the rest of our lives?
After upgrading their coach a couple of times and trying out the full-time lifestyle for a few months, the Andersons discovered an answer in productive and interesting volunteer and paying jobs. For the past two summers, Richard and Pauline have served as park attendants at the Shiloh Public Use Area on Arkansas' Greers Ferry Lake. In the winter, they make their way to Arizona where they volunteer for the Desert Outdoor Center, a Maricopa County park on Lake Pleasant.

Richard likes the idea of traveling on money they earn hosting at the U.S. Army Engineers Corps park. But two more important reasons to summer only 25 miles from their former home in Heber Springs are grandchildren, nine-year-old Nikki, and her younger brother, Geoffrey. Their five-day work week allows time to cheer at Nikki's ball games and attend both children's church programs. In exchange for their landscaped host site with a concrete pad, full utilities, and a monthly check, the Andersons put in a minimum 48 hours or a maximum 52 each week, depending on their schedule.

Classified as long-term park attendants with a contract running from April until November, Richard and Pauline alternate days and nights with a couple defined as short-term attendants, who work from mid-May through Labor Day.

The Andersons' hosting duties include renting spaces in the park and checking on campers and facilities during their working hours. "We make sure the hot water is running in the comfort station and the electricity is on at a camper's site," Richard says. "We answer questions and hand out brochures, especially for the new reservation system. Basically, we're public relation faces for the Corps."

Pauline describes Shiloh as a family park. "Campers have a sense of security when they see us driving around four times a day scoping out problems," she says. "If something goes haywire, we call a ranger."

Most days pass in lazy sunshine with the Andersons welcoming campers who become friends. But on occasion, urgent incidents demand their attention. Once a car caught on fire in front of their host site. "Greers Ferry, the community closest to Shiloh Park, is small," Richard says. "But their fire and police departments were on the scene in a 'New York minute!' We've been impressed with their reactions to minor accidents and a camper suffering a heart attack."

Richard points out that attendants for Corps parks bid on contracts running for three years. The contracted seasonal hosts are required to provide the Corps with a $10,000 bond, which initially comes from their personal pockets.

"When we bid on a job, we include office supplies such as pencils, paper, staples; postage for mailing receipts each week; transportation expenses to convert receipts to a cashiers check and make rounds of the park," he says. "Some items seem rather incidental until we add them up. For example, weekly postage is about $2.00. Over seven months, that runs close to $60.00."

The Corps provides training for their computer system, standard forms, computer paper, and trash bags. In the beginning of the 1999 season when the new reservation program was initiated, the Andersons met a challenge. "Once the system is running, people making reservations pay at the central office," Richard says. "When campers check into the park with reservations, we issue a piece of paper for their windshield, hand out a trash bag, and direct them to their site.

"For 'walk-up' campers, we go through the old system, putting them in the computer so workers in central reservations know someone is in that site. We issue a permit, take their money, and give them a site," he continues.

"Workamping keeps us on our toes," Richard states. "Using computer systems at both the Corps and the Desert Outdoor Center allows no 'senior moments,' which isn't bad for a couple of 'old' people!"

The Andersons compare Arizona's Lake Pleasant to Arkansas' Greers Ferry Lake where recreational facilities are by-products on the impounded waters formed by dams to generate power and create a water source for communities and agriculture. The exception is the Desert Outdoor Center, an education facility built by the Bureau of Land Management and leased to Maricopa County.

The Andersons work hand in hand with rangers who teach the county's school children about the eco-system in the desert and how to survive in a wilderness environment. "If they need anything for a particular class, we're there to do it," Richard says.

Pauline also works on the computer in the office at Desert Outdoor Center, handling reservations and the gift shop. She tours guests around the facility. Richard does ground maintenance.

In exchange for volunteering 20 hours each per week, Maricopa County provides the Andersons with a host site under a canopy, utilities, access to a laundromat, propane, a fire ring, picnic table, barbecue pit, and the use of a full-line commercial kitchen. Pauline and her fellow volunteers once used the kitchen to bake 18 lemon meringue pies in one day.

"Our hours are flexible. We usually work two days and are off five, giving us plenty of time to see the sights in Arizona," Richard says.

"We love to volunteer, but we want to do it at our pace and on our terms," Pauline says. "We like to say, 'This is what we'll do and this is what we won't do!'"

The Andersons enjoy the accessibility of Phoenix, only 40 miles from their volunteer assignment. On days off, they visit nearby Sedona and Carefree in Cave Creek, a western style casual community in a northern Phoenix suburb. In 1999, they toured Los Angeles, Palm Springs, Joshua Tree National Park in California, and Quartszite, the winter gathering spot for RVers.

However, from all their experiences, Pauline ranks as the most fun their frequent excursions to Los Algodonz, a border shopping mecca only eight miles from Yuma. "We're impressed with Mexican hospitality," she says. "In the fall, the townspeople welcome the 'snowbirds' back to Arizona with free food and drinks.

"Then in the middle of March, the residents throw a going-away fiesta with dancing in the street," she goes on. "I could go there every day!"

Despite the regrets in leaving behind their son's family in Arkansas, the Andersons long for the wide open spaces of the West. They have not yet introduced their grandchildren to the desert. Meanwhile, they keep in touch via telephone and packages of Arizona gems and cactus candy. And they look forward to big bear hugs when they return to Heber Springs.

Pauline no longer wonders what she and Richard are going to do with the rest of their lives. With the opportunities to combine work, volunteerism, and travel, a summer lark turned their retirement into a walk in the park.
Answering the FAQs of Hiring Workampers
Whether you're new to hiring Workampers or have been utilizing...
Read more
Tom and I are now three weeks into our fulltime RV life and it is great...
Read more