Hershey RV Show
Wednesday, September 11 2019 - 8:00 am
to
Sunday, September 15 2019 - 10:00 pm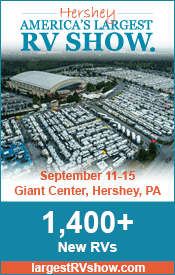 Make plans now to visit America's Largest RV Show. Held at the Giant Center in Hershey, PA, it is the place to shop and compare RVs from more than 40 manufacturers, explore 1,400 + RVs and the latest accessories and related products. Plus, fantastic seminars led by industry professionals.
You will also find multiple Employers talking with and interviewing Workampers!
To register or to learn more about this event:
Making a First Impression at Your Workamping Job
Do You Know What Kind of First Impression You are Making?...
Read more
Tom and I are now three weeks into our fulltime RV life and it is great...
Read more