FMCA's 100th International Convention & RV Rally
Wednesday, August 14 2019 - 8:00 am
to
Saturday, August 17 2019 - 8:00 pm
Presented By:
Family Motor Coach Association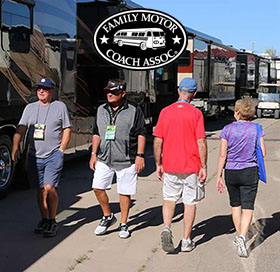 North Dakota State Fairgrounds in Minot, ND
It's four days of everything RVing! Imagine one place where you can meet new friends, renew acquaintances, look through new RVs, shop for items to make your traveling experience more enjoyable, learn more about your RV and the travel lifestyle, and be entertained.
Visit the FMCA website to learn more!
---------------------
Want To Learn More About RVing?
If you've been to previous events like this, you know how busy the days can be, running from seminar to seminar and "tag-teaming" with your travel partner to catch all the good stuff. Consider getting all your "What's New/What's Next/How-Does-That-Work" learning in BEFORE the fun of the convention begins by attending RV Basics, a two-and-a-half-day workshop held right before the convention. August 11-13. Powered by FMCA Academy.
To register or to learn more about this event:
RVing Lifestyle Ambassador Program
Thank you for the contact.  We DON'T need an ad this year because...
Read more