Escapees Club RVers Boot Camp TX
Friday, November 8 2019 - 8:00 am
to
Sunday, November 10 2019 - 10:00 pm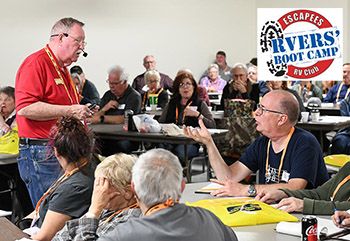 Rainbow's End in Livingston, TX
Training, a flash drive with all handouts, RVer's Ultimate Survival Guide on the flash drive, breakfasts on Wednesday and Thursday, and dinner on Wednesday evening. More than 20 hours of formal training on essential RV topics. Special elective courses for new RVers. Focus groups on motorhome towing and towable RVs. Meals and social gatherings.  Additional optional services, such as RV driver training, and RV weighing by Escapees SmartWeigh will be available at the event at additional cost.
Visit the Escapees RV Club website to learn more!
To register or to learn more about this event:

We recently updated a Frequently Asked Question by Workampers...
Read more
The Secrets to a Happy Workamping Experience
Why are "Joe & Martha Workamper" having the times of their lives...
Read more
Once again, we would like to thank you ALL for being there for us RV...
Read more