Escapees Club RVers Boot Camp OR
Tuesday, August 20 2019 - 8:00 am
to
Thursday, August 22 2019 - 10:00 pm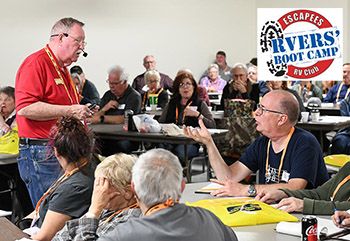 The Mill Casino & RV Park in North Bend, OR
Training, a flash drive with all handouts, RVer's Ultimate Survival Guide on the flash drive, breakfasts on Wednesday and Thursday, and dinner on Wednesday evening. More than 20 hours of formal training on essential RV topics. Special elective courses for new RVers. Focus groups on motorhome towing and towable RVs. Meals and social gatherings. Additional optional services, such as RV driver training, and RV weighing by Escapees SmartWeigh will be available at the event at additional cost.
Visit the Escapees RV Club website to learn more!
To register or to learn more about this event:


The knowledgeable folks from Explorer RV Insurance Agency give you the...
Read more
Tom and I are now three weeks into our fulltime RV life and it is great...
Read more