May/June Issue of Workamper News Available Now
Posted by

120632

on 04/28/2020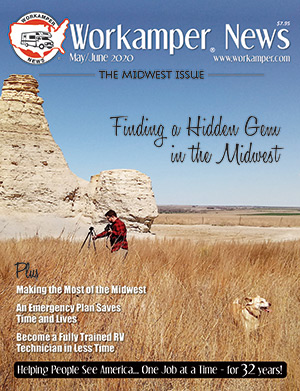 Read the May/June issue of Workamper News Magazine Online Now!

Our theme this issue: The Midwest!

The Midwest is a region that seems often overlooked by Workampers. With warm summer weather, there are many opportunities available. What many may not know about are the wonderful things to see and do there. We hope to expand your horizons!

This issue includes...
Help Wanted Ads for now and future seasons
Making the Most of the Midwest
Workamper Employers of the Midwest
Finding a Hidden Gem in the Midwest with Workamping
An Emergency Plan Saves Time and Lives
Gain 20/20 Vision at this year's Rendezvous
Leave Ordinary Days Behind - Start Your Path to RVing with The Dreamer's Journey
Become a Fully-Trained RV Tech in Less Time
The New Zig Ziglar Column
and more!
Diamond & Platinum members - you have access to this new issue now. Intro & Gold members, y'all can now view the Mar/Apr issue; your access to the May/June issue will begin in June (after we publish July/Aug).
Login to www.workamper.com and click on the Online Magazine button on your Dashboard, or click here to go straight to the magazine page if you're already logged in.
To upgrade your membership level for access to more tools (and immediate access to the May/June issue), login to www.workamper.com and you'll find an Upgrade/Renew button on your Dashboard.
The Secrets to a Happy Workamping Experience
March 16, 2015
Why are "Joe & Martha Workamper" having the times of...
Read more

July 13, 2014
During the 7 years we Workamped, Workamper News was our Bible. We were...
Read more