5 Tips You Need to Know About Workamping
Posted by

153177

on 01/28/2016
5 Tips You Need To Know About Workamping
Hello, this is Steve Anderson with Workamper News and I want to start by saying thanks for reading this! I'm glad you're here. I've written this short article to share with you some of the commonly asked questions about Workamping. My hope is that the answers will introduce you to this awesome lifestyle and help you discover whether it is for you or not.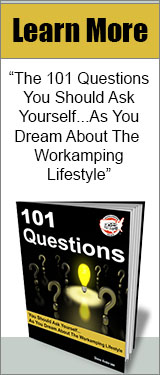 Question #1: What is Workamping?
The term "Workamper" was trademarked by my company some years ago, back in 1987. Workamping is accomplished by individuals that live in an RV and do some form of work. Some people try to limit the definition by saying, "Well, I'm only a Workamper if I'm working in a campground." That's not technically the definition. If you are living and in an RV, and you are doing any kind of part-time or full-time work - you are a Workamper!

So think about any work that you might be doing. If you are also living full-time or part-time in an RV, then you are truly a Workamper in the simplest form of the definition.

Now, determining whether it's right for you, what you need to go through to become a Workamper, and the things you need to learn…that's another thing. That's all part of the journey that we're going to discuss in this blog post. And, you can take it a step further and download 101 Questions you should be asking yourself as you dream about the Workamping lifestlye.

Click Here and you will be able to request your copy of 101 Questions
Question #2: What type of work is available for a Workamper?
Let's take a look at Workamping from the standpoint of what type of work is available out there that a person could do and enjoy. The majority of the operations that utilize Workampers are campgrounds, but there's really quite an assortment of opportunities - from amusement parks, retail shops, fulfillment centers, restaurants, lodges, water parks, state and county parks, Forest and Fish & Wildlife service, Christmas tree stands, blueberry farms, campground map ad sales, and more!

Active Workampers work for large companies, for small, mom-and-pop operations – and everything in-between!

There are Workampers who work as "Santa's helpers" during the Christmas season, for a company called Amazon.com Inc. They work in one of their fulfillment centers that need additional assistance for the holidays.

Opportunities that fall under the smaller, mom-and-pop category may hire a Workamper to come in and help operate their campground, or their convenience store, or just take care of their property. Any of these jobs can be classified as a Workamping position if you are living in your RV and working.

You may be thinking, "So, if I was to find a job working at Walmart and I was living in my RV, would I be a Workamper?" Yes, you would be! Don't get buried in the definition and make this more difficult than it needs to be. Don't make the definition so strict that "I'm only a Workamper if I'm doing ____." That's not the case. There are all types of opportunities out there for the Workamper. So keep your mind open to the possibilities.
Question #3: How much income can I earn?
First, please understand that the majority of the Workamping opportunities out there are not going to provide the type of compensation that will replace your career income.

What you're going to find is that many positions have no hourly wage – per se! Many Workamping opportunities out there are work in trade for a campsite. So you're getting the value of the campsite (and often other perks like WiFi, propane, laundry) for your time, yes, but you're not receiving a paycheck. The employer may just simply say, "We need you to work X amount of hours per week to trade out for the campsite."

In other situations, the employer will provide you a campsite as well as an hourly wage, and that wage can run from minimum wage up to $12 an hour.

The Workamper determines the value of these types of opportunities by evaluating how much value the employer is placing on the provided campsite and perks, along with the personal value he/she places on being in the location of that job.

There are opportunities out there with organizations like the U.S. Army Corps of Engineers that have contract opportunities that you can bid on. These provide campsites as well as a contractual wage for a season. You submit a bid, and if you win the contract, your bid amount would be the monies that you earn for that period.

Workampers living the lifestyle range in age and budgetary needs. Luckily there's a wide variety of compensation available to help meet those needs. If you're in need of a more regular income, there are opportunities that pay commissions or provide career-like benefits on top of a campsite or housing.

That should give you an idea of the range of compensation available to the Workamper. Again, typical Workamping income is not likely to be career level wages.
Question #4: Why would I want to be a Workamper?
Freedom of Place - that is being able to go wherever you want and stay as long as you want because of your Workamper income and perks.

For instance, it takes months to fully explore places like Yellowstone Park, yet due to the high cost of living and campground stay limits, the average visit lasts only a few days. Workampers who spend the entire summer in Yellowstone leave knowing the park as well as the locals! Freedom of Place also means warm winters, cool summers, time with the kdis or grandkids, time away from the kids and grandkids and a million other enticing benefits!

Experienced Workampers also report on the joy brought to their lives by the lifelong friends they make while living the lifestyle. You will immerse yourself in a community of like-minded folks, who are mostly friendly and helpful. And if you happen to not really like your neighbors…you can move!
Question #5: Where should I go to Workamp?
Ask yourself this question, "Where have I vacationed in the past where I enjoyed it so much that I would have loved to stay longer?" That is key in thinking about where you might like to go and Workamp.

A location that you enjoyed on vacation where you would have loved to have explored more trails, eaten at more local restaurants, learned more about the local history and people, etc. is a perfect area that you should be researching and thinking about for a Workamping opportunity. Workamping can provide an experience that just isn't possible on a short-term vacation. That is one of the best ways to determine where you should be Workamping.

Bonus Question: How do I find a job?
So now you are thinking, "I know where I would like to Workamp! How can I find a Workamping position in that area?" How do you find a job that will allow you to stay for an extended period of not just weeks, but for months in your desired location?

As you progress through the learning process, you're going to hear about all the various tools and information available to you through Workamper News. Our tools will assist you with preparing to live the lifestyle, along with locating opportunities. You'll even find resources to help you learn how to market yourself and develop opportunities for yourself.

For over 29 years, Workamper News has been helping people just like yourself take this journey. We have many educational resources to help you determine if the lifestyle is for you. Once you make your determination, then we can assist you with developing your plan, getting into all the details, and taking action to find the right job for you!
How do I move from dreaming to becoming a Workamper?
The very first thing that we encourage every Dreamer to do is to spend some time with a series of 101 questions that we have put together. These are questions gleaned from thousands of conversations with Workampers over many years.
When you can answer these questions honestly, you will be pointed in the right direction to move from Dreamer to that of a Workamper. If you have a partner that's going to be traveling with you, have them answer the questions also.
So, your next step in discovery is to access and accomplish the free report: "The 101 Questions You Should Ask Yourself...As You Dream About The Workamping Lifestyle."
Click Here and you will be able to request your copy of 101 Questions
We will send you a link to the 101 Questions download right away. After you've had some time to review the questions, we will provide you a summary of responses to the questions via video and written transcript.
There is no cost to take this next step. It is my hope that this education will be of great help to you as you embark on your journey into the Workamping lifestyle and that you will become a Workamper Intro member to continue learning into the future!
We have Dreamers who will be ready within a few months, and others who are dreaming for years down the road. You are going to find that the learning and exploration process can be a fun part of the journey.
The very best to you in your dreaming process.
Sincerely,
Steve Anderson
President and Director of Possibilities
Workamper News, Inc.
110 Tulaka Blvd, Suite C
Heber Springs, AR 72543
800-446-5627
www.workamper.com
Workamper Campfire #41
November 15, 2016
Campfire Q&A with WKN Staff
Campfire webinars allow...
Read more
May 5, 2017
I am 56 and hubby is 63. We sold our home and gave away most of our...
Read more