So, You Want to Be an RVer?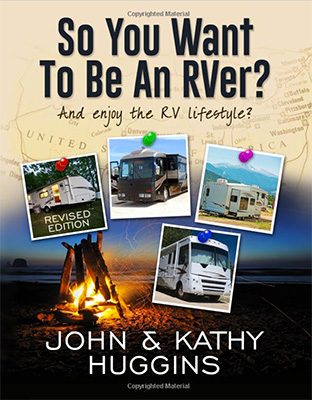 "So, You Want to be an RVer?" is a totally updated rewrite of the very successful book by long time RVers John and Kathy Huggins, "So, You Want to be a Full-Time RVer?". The new title reflects the expanded text that appeals to occasional weekend campers all the way to dedicated full-time RVers. The new book is twice the size of the old one with over 90 images and diagrams to help both RV dreamers and experienced RVers.
This new version has 57 chapters in six sections on Types of RV's, RV Systems, All About Towing, Full-time RVing, Part-time, Weekend RVing, and RV Tips. Much of the original text is maintained although updated. There are well over a hundred links to people and RV specific firms who the authors consider experts.
With this book, you can research RVs to find the right one for you, learn all about the various systems on RV's, get advice on towing either a car or trailer, learn about all types of RVing, and learn from a host of RV tips. At the end is a chapter on lessons learned by the authors and others including the infamous black water dance. This is a book you will go back to time after time for great information on this wonderful RV lifestyle.
The authors also produce the weekly 1-hour podcast called Living the RV Dream. It is available on iTunes and Stitcher Radio. They have also authored "So, You Want to Be a Workamper?. Be sure to check out their Facebook group "Living the RV Dream" as well.
From the authors: Have you ever been driving down the highway and seen an RV headed in the other direction and thought, "That could be us."? Most people have. If you're thinking or dreaming about becoming an RVer, then this is the book for you. In it you will find what we've learned (often the hard way) in over ten years of full-time RVing, but all the information is aimed at part timers and weekenders as well. We provide numerous tested links to the websites of those experts we look up to. The advice we offer is based on our own experience. We take you from doing the initial homework, to choosing the right rig, to the buying process, where to camp, and way beyond. We discuss what you need to have in your rig and why. If you are interested in budgeting for full-time RVing, communicating on the road, boondocking or workamping, we discuss them at length along with many other topics. We wind it up with a chapter on our most memorable lessons learned. Yes, that includes the infamous black water dance. This book would also make a great gift for a would-be RVer or for folks who wonder why we do this.
Paperback. 370 pages. 8.5" x 11" in size. By John & Kathy Huggins.
Campfire Q&A with WKN Staff
Campfire webinars allow...
Read more
I am 56 and hubby is 63. We sold our home and gave away most of our...
Read more