The Tax & Legal Playbook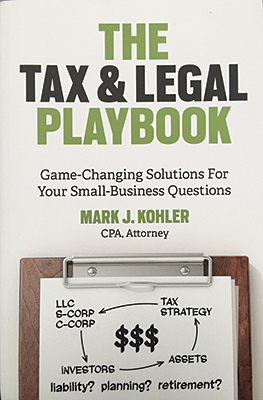 Game-Changing Solutions for Your Small-Business Questions
Go the distance without dropping the ball. CPA and Attorney Mark J. Kohler targets the leading tax and legal questions facing small business owners, across all stages of business, and delivers a comprehensive playbook of clear-cut truths, thought-provoking advice, and underutilized solutions to save you time, money, and heartache.
Read from cover to cover or refer to as needed, you will come away wiser and better equipped to make the best decisions for your business, your family, and yourself.
"Mark has done it again! He has produced a book on difficult tax and legal topics that is both interesting and easy to read. A guide that will save you time and money. Thank you, Mark!" - Sharon Lechter, co-author of Rick Dad Poor Dad
"As entrepreneurs we are constantly bombarded with challenges the rest of the economy is not facing. The Tax & Legal Playbook gave me specific solutions to my business problems. I am sure it will do the same for you." - Woody Woodward, personal business coach and author of Your Emotional Fingerprint
"Business owners need expert tax and legal advice. That is why you need Mark Kohler! He is an expert on these matters, and his content is outstanding." - Eric Lofholm, master sales trainer and author of How to Sell in the New Economy
"Mark's ability to integrage the tax planning into a family structure and paying children for legitimate business services is invaluable. He can save families thousands of dollars in taxes!" - Lori Mackey, author, national speaker, and president of Prosperity4Kids, Inc.
Paperback. 267 pages. By Mark J. Kohler, CPA, Attorney
Read the Sept/Oct issue of Workamper...
Read more


The Amazing RV Refrigerator
We are absolutely blown away with the success that we have attained via...
Read more