RV Air Conditioner Maintenance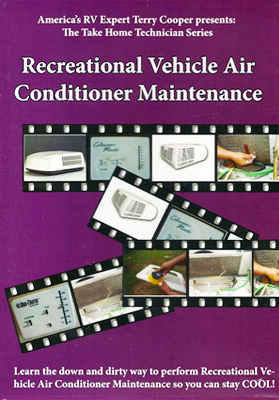 America's RV Expert Terry Cooper presents the Take Home Technician Series – Recreational Vehicle Air Conditioner Maintenance. Learn the down and dirty way to perform RV air conditioner maintenance so you can stay COOL!
In this video, the Texas RV Professor will show you how to service your RV air conditioner for less than 1/3 the cost of a service call, and you will be able to keep the COLD air blowing!!
Your air conditioner is one of the most overworked and under maintained appliances in your RV.
Learn how to test the efficiency of your air conditioner with a simple food thermometer
Did you know that 80% of the problems we have with our RV air conditioner are things we can fix?
Do you know where the fuses are on your RV air conditioner?
Learn:
Coleman or Dometic – which brand is yours?
How to clean and service the coils of your air conditioner
Things you can do to improve the air flow of your unit
Quick troubleshooting tips
Tips and tricks you need to know
DVD. Produced by Terry Cooper, the Texas RV Professor and RVDA-RVIA Master Certified RV Service Technician.

Read the Sept/Oct 2021 issue of Workamper News Magazine Online...
Read more
Answering the FAQs of Hiring Workampers
In 2011, as "Dreamers," Peg and I began reading the bi-...
Read more