Can I Write Off My RV?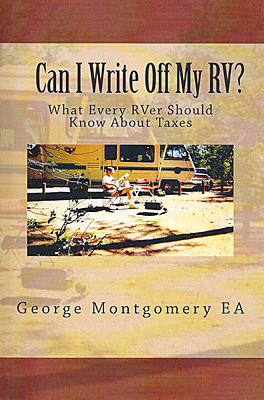 What Every RVer Should Know About Taxes. Take the confusion out of filing taxes if you work while traveling in your RV.
Many RVers work at various seasonal or temporary jobs as they travel in their RVs. Some travel and work for several weeks or months at a time before returning home. Some have no house to go back to and live full-time in their RV. The tax laws regarding deductions are complex and sometimes must be determined on a case-by-case method. The RVer who works in various states is faced with having to file multi-state returns.
This book answers questions the working RVer may have regarding what expenses may be deducted, and what records must be kept in order to document their deductions.
Mr. Montgomery worked at various tax offices as he traveled the continental United States in his own motorhome. He knows what information the RVer needs to keep and the various methods available to the cramped living conditions in an RV. Includes chapters on domicile, volunteering, business entities, and examples of different RVer tax situations.
Paperback. 175 pages. Written by George Montgomery, EA.
The Secrets to a Happy Workamping Experience
Why are "Joe & Martha Workamper" having the times of...
Read more
I'm so pleased with the amount of information you share so freely....
Read more