Robyn Jinkins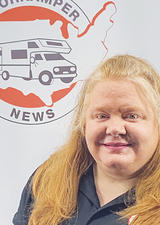 Robyn has been in the Workamping community since 2013 when she began working for the National RV Inspectors Association. In 2016, along with her duties for the NRVIA, she transitioned into providing more of her awesome customer support for Workamper News. As of April 2018, she has been the Social Media Manager for Workamper News. You can see her on Facebook, Twitter, Instagram, Pinterest, Google+, LinkedIn, and writing for our blog – Gone Workamping.
Outside the office: She has 3 children and 4 grandchildren. She was born in Heber Springs, Arkansas and has lived in the area her whole life. She enjoys watching her youngest daughter compete in volleyball as well as entertaining the grand-babies. She is now an empty nester and is currently in dreamer mode. She is hoping to purchase a travel trailer in the next few years and start seeing parts of this beautiful country one weekend at a time!
Answering the FAQs of Hiring Workampers
Whether you're new to hiring Workampers or have been utilizing...
Read more
Thank you for all the information and resources you provide. My husband...
Read more