Dana Rose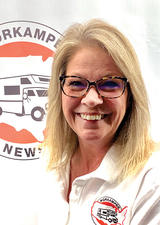 Dana has been with Workamper News since 2016 and is our COO.  She is also the administrator over the RVing Lifestyle Ambassador Program.  If you have any questions about becoming an RVing Lifestyle Ambassador, she is the woman to talk to!
Outside the office: Dana lives with her husband, Richard, and her great nephew, Cayd, here in Heber Springs.  She grew up here and moved away to Mississippi for awhile and raised her son and daughter, but has since returned to our beautiful Natural State.  She is raising her great nephew, Cayd, and you can find them at the sports complex cheering Cayd on in all the games he plays throughout the year or at the race track watching Richard drag race.  In her down time, she loves to fish along the beautiful Little Red River here in Heber Springs.  You might even find her out camping and turkey hunting!

We recently updated a Frequently Asked Question by Workampers...
Read more


The knowledgeable folks from Explorer RV Insurance Agency give you the...
Read more
Tom and I are now three weeks into our fulltime RV life and it is great...
Read more