Right from the Horse's Mouth - RV Propane
Saturday, July 11 2020 - 2:00 pm
Presented By:
National RV Training Academy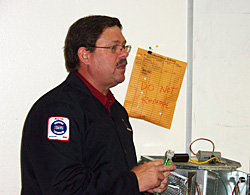 During our next session in the "From the Horse's Mouth Series," Terry Cooper, the Texas RV Professor and President of the National RV Training Academy in Athens, Texas, will be sharing what you need to know about propane - a fuel source often used in RVs for cooking and furnace heat.
When we look at the nice, blue flame with a slight yellow tip dancing on the burner of our RV cooktop, we never think about what it takes to make this clean, portable fuel safe and easy to use.
We'll cover some facts about propane like:
• The two states of propane
• How and when propane changes states
• Why propane tanks aren't filled all the way
• Why and when some propane tanks will need to be chained up/strapped down
• Why RV manufacturers place the LP detector close to the floor
• Seriously, why does it smell like that?!
• What does the regulator do
• How the temperature outside can affect your propane usability
Join this free webinar hosted by Workamper News on behalf of the National RV Training Academy to learn more!
Can't attend live? No worries - please register anyway. Once the webinar takes place, you will receive an email with a link to the recording.
12 pm PT/1 pm MT/2 pm CT/3 pm ET
To register or to learn more about this event:
RV Maintenance Training Options Available from NRVTA
Workamper News works!  I updated my resume 2x in last 2 weeks so...
Read more